Strongcoin is a hybrid bitcoin wallet
Encryption is done in the browser before your Bitcoin keys are saved on our servers.

WHAT IS A HYBRID WALLET?
A hybrid wallet allows you to send and receive Bitcoins just like any other wallet. However, the Bitcoin private key which is required to send money is encrypted in your browser before it reaches our servers.
Therefore our servers only hold encrypted private keys and neither we nor anyone else can spend your Bitcoins. Only you.

NON-HYBRID WALLETS ARE NOT SAFE.
Even seemingly reputable wallet providers or exchanges that have access to your private keys are taking risks with your money.
It only takes one rogue employee or experienced hacker with access to the naked keys and your Bitcoins are gone forever.

WHAT ABOUT DESKTOP CLIENTS?
Even experienced Bitcoin users have lost coins because they accidently deleted their wallet file on their personal computers.
StrongCoin takes care of offsite secure backups so you don't have to worry.
We're the longest running Bitcoin wallet
We process payments in the browser so we only have an encrypted version of your private keys on our server. We've been securing our clients Bitcoins like this since 2011.
Create a free secure wallet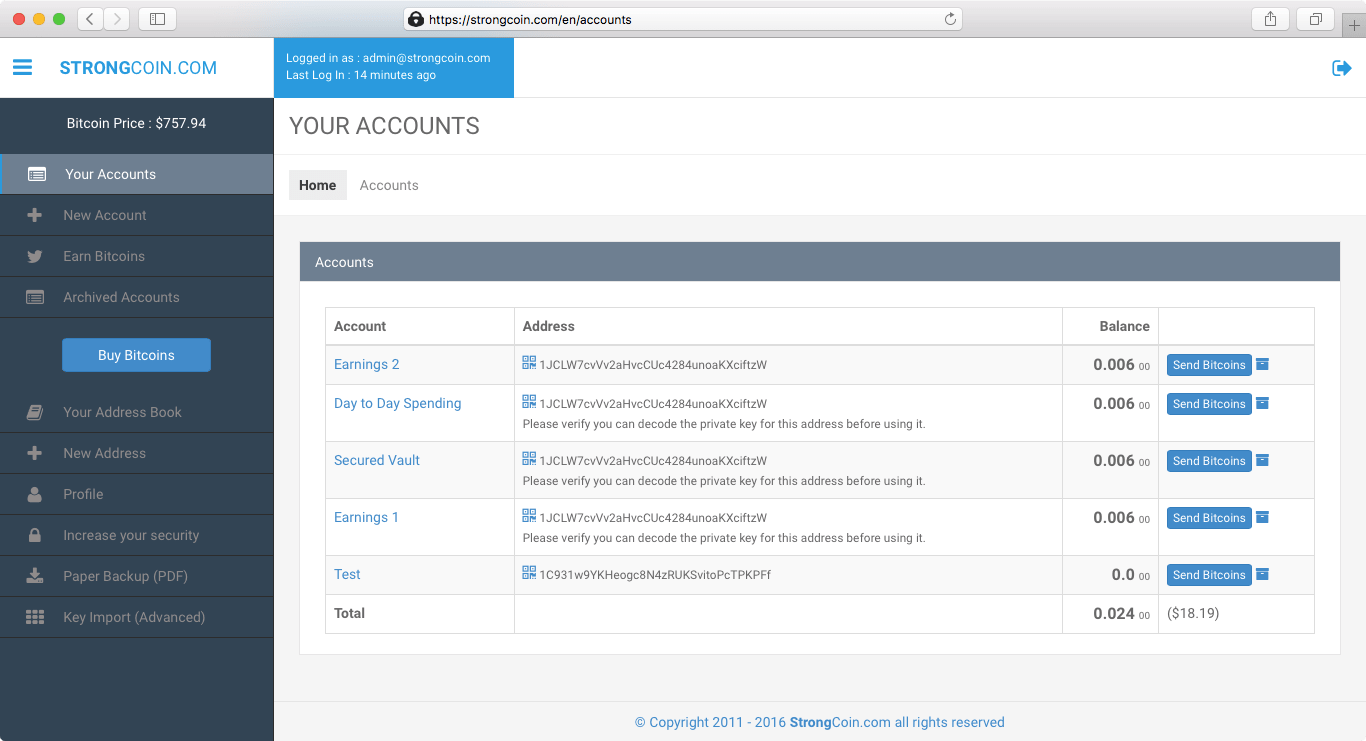 Best in class account recovery
Your entire account is downloadable as a PDF document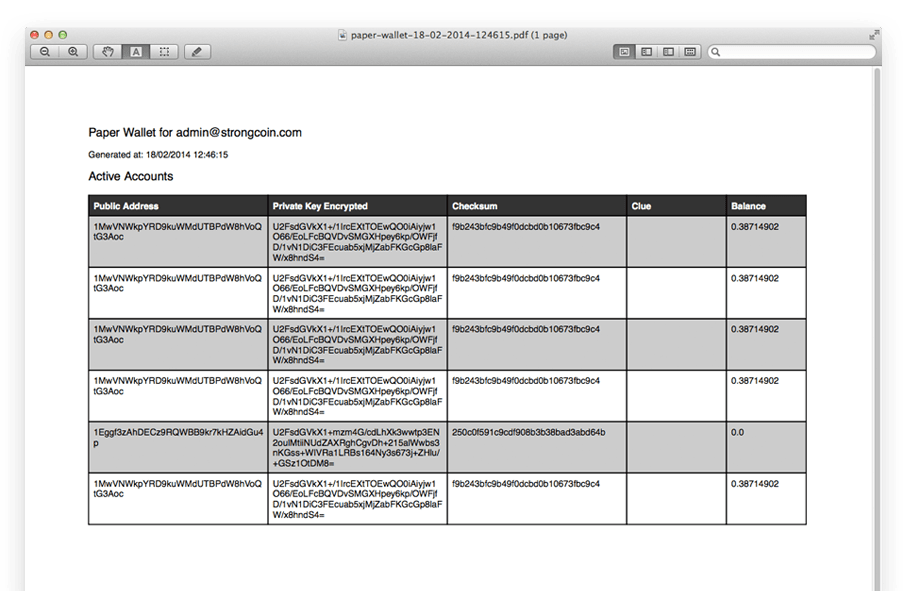 All data is encrypted
The PDF file holds a copy of all your Bitcoin private keys AES encrypted with the password you used when you created each account.


Print out and file safely away
Sleep easy knowing that you have a print out of all your Bitcoin funds encrypted and in your control.

Buy Bitcoins and have them delivered directly to your StrongCoin wallet
Don't risk your Bitcoins by leaving them on an exchange.

Bitcoins held on the blockchain not on our server
You control the private keys not us.

Buy in confidence
We use a 3rd party Glidera to supply you with Bitcoins. Their reputation is first class.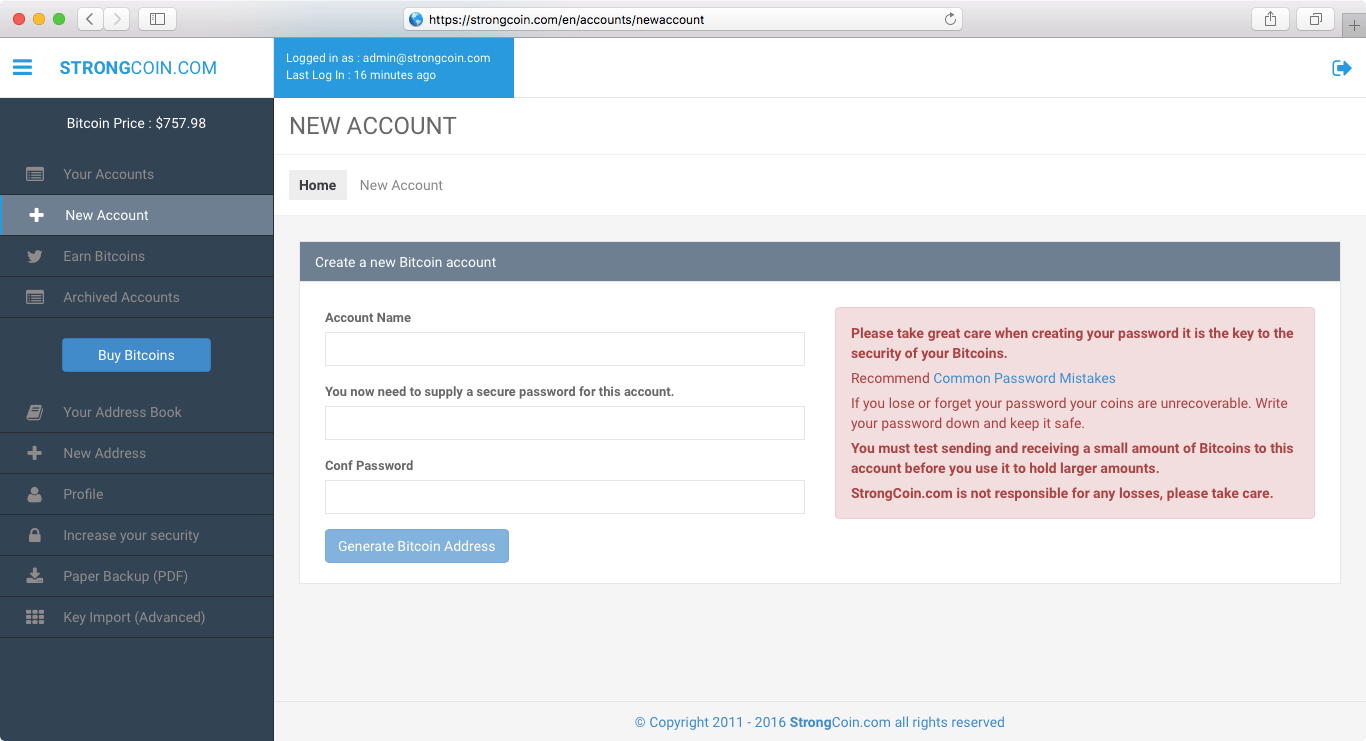 More Features
We are always improving StrongCoin to give you the safest most secure Bitcoin experience.
Encryption is done in the browser before your Bitcoin keys are saved on our servers.

STRONGCOIN DISTRIBUTED EXCHANGE
You can buy Bitcoins from our trusted sellers and have them delivered directly to one of your secure addresses.

WORKS ON ALL YOUR DEVICES
Your are always in control of your funds our site works on tablets, mobiles and the desktop.